<h3>SPINACH, CRAB &amp; ARTICHOKE</h3>
<h3>MINI TARTS</h3>
<a href="http://www.foxrunbrands.com/wp-content/uploads/2012/06/large_60668.jpg"><img title="large_60668″ alt="" src="http://www.foxrunbrands.com/wp-content/uploads/2012/06/large_60668-300×206.jpg" width="300″ height="206″ /></a>
<strong>INGREDIENTS</strong>
3 tbsp. mayoniase
3 tbsp. sour cream
Generous dash freshly ground black pepper
1/4 cup frozen shopped spinach, thawed and well drained
1/3 cup well drained chopped canned atrichoke heart
1/3 cup lump crabmeant, well drained
1/2 of a 17.3 oz package of puff pastry sheet (1 sheet), thawed
3 tbsp. Panko bread crumbs
1 1/2 tbsp. finely grated Parmigiano-Reggiano or Paremesan cheese
1 1/2 tsp. extra-virgin olive oil
12 small sprigs fresh parsley
<strong>DIRECTIONS</strong>
Heat the oven to 375°F.  Stir the mayonnaise, sour cream and black pepper in a <a href="http://www.foxrunbrands.com/products-page/bakeware/34qt-mixing-bowl/">medium bowl</a>.  Add the spinach, artichokes and crabmeat and mix lightly.
Unfold the pastry sheet on a lightly floured surface.  Cut the pastry sheet into 3 (2 1/2-inch wide) strips.  Discard the remaining pastry.  Cut each pastry strip into 4 (2 1/2-inch) squares, making 12 in all.  Press the pastry squares into 12 (1 3/4-inch) <a href="http://www.foxrunbrands.com/products-page/bakeware/mini-muffin-pan-2/">mini muffin-pan </a>cups.
Spoon 1 1/2 tablespoons crab mixture into each pastry cup.  Stir the bread crumbs, cheese and oil in a small bowl.  Sprinkle 1 teaspoon bread crumb mixture over each filled pastry.
Bake for 20 minutes or until the pastries are golden brown.  Top each with 1 sprig parsley before serving.
 
Makes 12 servings
Recipe and picture from puffpastry.com
FRENCH ONION SOUP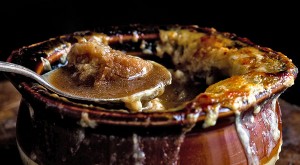 INGREDIENTS
Extra-virgin olive oil
8 large onions, thinly sliced
Kosher salt
6 ounces dry sherry
4 bay leaves
1 bundle thyme
2 quarts chicken stock
12 thin slices baguette
½ pound Gruyere, grated
½ bunch chopped chives
DIRECTIONSCoat a large deep pot with olive oil. Add the onions and sprinkle generously with salt. Bring the pan to a medium heat. Stir the onions to coat with oil. Cover the pot and sweat for 15 to 20 minutes.
Once the onions have gotten very soft and let off a lot of water, remove the lid and let the onions cook low and slow. Caramelized onions take a long time, about an hour.
When the onions are very brown and have gotten considerably smaller, add the sherry and cook until the sherry has reduced by half. Add the bay leaves, thyme bundle and chicken stock. Bring to a boil and reduce heat and simmer for at least 1 hour. Taste for seasoning, you probably will need to season with salt. If the stock reduces too much add water to keep the liquid level up. When done, the soup should be thick and very full flavored. Taste! You may need to re-season, caramelized onions are very sweet and require a fair amount of salt.
Toast or grill the baguette slices. Fill ovenproof crocks 3/4 of the way with the onion soup, float 2 toasts in each bowl and top with grated Gruyere. Place the crocks under the broiler to melt the cheese and make it brown and bubbly. Top with chopped chives.
Makes 6 servings
Recipe from foodnetwork.com by Anne Burrell
Picture from nytimes.com
QUICHE LORRAINE

INGREDIENTS

Pastry
1 cup all-purpose flour

¼ teaspoon salt

1/3 cup plus 1 tablespoon shortening

2 to 3 tablespoons cold water

Filling

8 slices bacon, crisply cooked, crumbled (1/2 cup)

1 cup shredded Swiss cheese (4 oz)

1/3 cup finely chopped onion

4 large eggs

2 cups whipping cream or half-and-half

¼ teaspoon salt

¼ teaspoon pepper

1/8 teaspoon ground red pepper (cayenne)

DIRECTIONS

In medium bowl, mix flour and salt. Cut in shortening, using pastry blender, until particles are size of small peas. Sprinkle with cold water, 1 tablespoon at a time, tossing with fork until all flour is moistened and pastry almost cleans side of bowl (1 to 2 teaspoons more water can be added if necessary).

Gather pastry into a ball. Shape into flattened round on lightly floured surface. Wrap in plastic wrap; refrigerate about 45 minutes or until dough is firm and cold, yet pliable. This allows the shortening to become slightly firm, which helps make the baked pastry more flaky. If refrigerated longer, let pastry soften slightly before rolling.

Heat oven to 425°F. With floured rolling pin, roll pastry into round 2 inches larger than upside-down 9-inch quiche dish or glass pie plate. Fold pastry into fourths; place in quiche dish. Unfold and ease into dish, pressing firmly against bottom and side. Trim overhanging edge of pastry 1 inch from rim of pie plate. Fold and roll pastry under, even with plate; flute as desired.

Carefully line pastry with a double thickness of foil, gently pressing foil to bottom and side of pastry. Let foil extend over edge to prevent excessive browning. Bake 10 minutes. Carefully remove foil and bake 2 to 4 minutes longer or until pastry just begins to brown and has become set. If crust bubbles, gently push bubbles down with back of spoon.

Reduce oven temperature to 325°F. Sprinkle bacon, cheese and onion in pie crust. In medium bowl, beat eggs slightly; beat in remaining filling ingredients. Pour into quiche dish.

Bake 45 to 50 minutes or until knife inserted in center comes out clean. Let stand 10 minutes before serving.

Makes 6 servings
Picture and recipe from bettycrocker.com